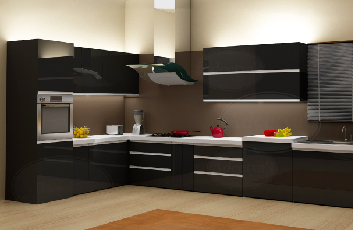 Kitchen System
The Modern Indian lady has become very practical with her choice. She wants to explore friendly products so that family can enjoy cooking and for that matter to make delicious food for their loved ones. Adeetya's Kitchens system offers you the freedom to select what you like for your Kitchen from wide range of materials, finishes as well as looks and feel. And we are open to listen to your requirements and find solution in stipulated time and resource parameter. Now you may Gourmet the Kitchen for your choice, taste, and budget and for your comfort.

It is a representation of the best modular kitchen and furniture in Pune. The application of space in a kitchen can be maximized with the use of modern kitchen, which comprises of modules of cabinets made of various materials that store accessories. Modular kitchen designs use pre-built cabinets, which are often made of wood, on the floor and walls. Every modular cabinet is easy to disassemble and can be put back together anywhere.
Adeetya Kitchen & Furniture values excellent customer service and is committed to assisting customers in achieving their dream homes. They offer a wide range of elegant wardrobes, kitchens, and furniture that can enhance the appearance of any room. Adeetya Kitchen & Furniture has branches in Pune and provides services in Nearby areas, including Shivajinagar, Sadashiv Peth, FC Road, Kothrud, SB Road, Katraj, and Karve Nagar. Visit Adeetya Kitchen & Furniture to discover their products and services.