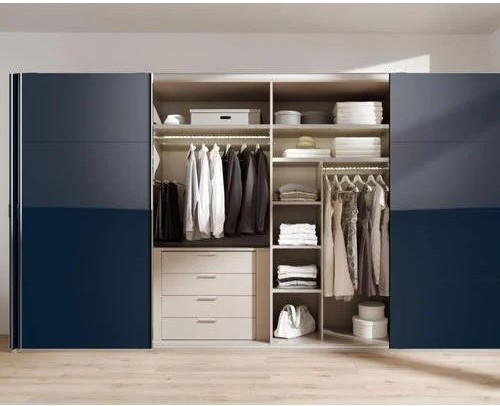 Robust Wardrobe Manufacturer
Welcome to Adeetya's Kitchen & Furniture, your go-to solution for premium and Best Robust Wardrobe Design, Manufacturing, and Supply in Pune. We are a leading wardrobe manufacturer and supplier dedicated to providing our customers with the highest quality wardrobes that meet their unique needs and preferences.
Our team of skilled designers and craftsmen uses cutting-edge technology and premium materials to design and manufacture robust wardrobes that are not only functional but also aesthetically pleasing. We offer a wide range of wardrobe styles and designs, including contemporary, classic, and modern wardrobes that are customized to suit your space and budget requirements.
At Adeetya's Kitchen & Furniture, we understand that each customer's needs and preferences are unique. That's why we offer personalized design consultation services to help you create a wardrobe that is tailored to your specific requirements. Our design experts work closely with you to understand your vision, style preferences, and budget and provide you with customized wardrobe designs that meet your needs. We pride ourselves on our commitment to quality, and all our wardrobes are manufactured to the highest standards using premium materials that are durable and long-lasting. Our expert craftsmen ensure that each wardrobe is built to perfection, with attention to detail and quality craftsmanship that guarantees superior quality.
Whether you need a wardrobe for your bedroom, dressing room, or walk-in closet, we have got you covered. We offer a wide range of wardrobe solutions that are designed to maximize your space and storage needs, while also enhancing the aesthetic appeal of your space.
In addition to our wardrobe design and manufacturing services, we also offer reliable and timely wardrobe supply services. We work closely with our clients to ensure that their wardrobes are delivered and installed on time and with minimal disruption to their daily lives. At Adeetya's Kitchen & Furniture, we are committed to providing our clients with the best wardrobe solutions that meet their needs and exceed their expectations. Contact us today to schedule a consultation and let us help you transform your space with our premium and robust wardrobe solutions.
Adeetya Kitchen & Furniture values excellent customer service and is committed to assisting customers in achieving their dream homes. They offer a wide range of elegant wardrobes, kitchens, and furniture that can enhance the appearance of any room. Adeetya Kitchen & Furniture has branches in Pune and provides services in Nearby areas, including Shivajinagar, Sadashiv Peth, FC Road, Kothrud, SB Road, Katraj, and Karve Nagar. Visit Adeetya Kitchen & Furniture to discover their products and services.